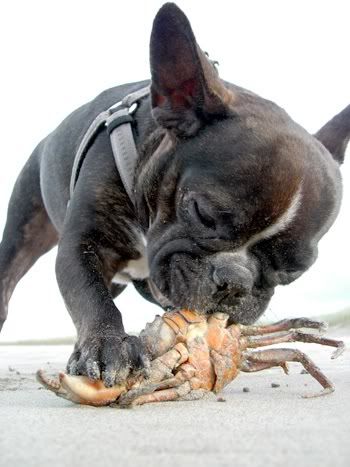 We live in Ireland now for 6 month and we were hoping to find someone by then who would like to watch our cute little French Bulldog Girl once in a while. No she is not a fight dog. French Bulldogs are somewhat rare out here and we get the funniest reactions from people. On the one side … really, really scared (we have seen Chucky make grown up men jump just buy looking at her) and on the other people being very fascinated by her looks.
Anyway – we travel pretty often and we would like to find someone in Mayo-Sligo-Westport-Ballina even Dublin or Shannon (Airport
) who would like to take care of our dog. We would of course pay your or watch your dog in return.
Why not just put her in Kennel? Well … she is not a Kennel dog at all and I would not enjoy my travelling imaging her being in one.
And she is well behaved and house trained
.. of course
If you know someone please forward that entry …
Thank you all for reading.
Technorati Tags: Helpful, Pet, Ireland, Irish, Dogsitter, Kenner, Alternative, Get Paid, Dog , Dog , French Bulldog, Rare